Avignon by train, for South of France city breaks and perfect summer holidays
Posted

Tuesday 12th August 2014
by

Nige Burton

Avignon, with its sunshine and ancient charm, proved to be the perfect place in which to begin my conquest of Provence!
In all my global ramblings, the South of France was an area I had never explored. Not that I didn't want to, mind! I just sort of thought that I'd get around to it eventually, once I'd done with the more exotic destinations on my travel list.
Partly with greener affairs in mind, and partly down to my inherent dislike of flying, JimBob and I had decided some time ago to do whatever exploring we could by land and sea starting, for ease and convenience's sake, with those quarters ideal for city breaks more readily reachable from good old Blighty.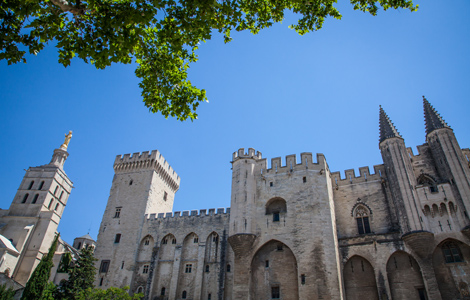 Avignon's stunning Palais des Papes – something you'll definitely want to see on your city break
Belgium had quickly become our destination of choice, with an odd foray into the Netherlands proving more than propitious, but it was now time to extend our rangy, intrepid tentacles en France, stretching ourselves a little farther than its compelling capital.
In need of some summer sunshine, we fixed upon a region which we felt would incline itself toward some seasonal splendour, and selected the ancient walled city of Avignon as the harbour in which to affix our little red pin of destiny; this was going to be a fabulously sunny, summer city break.
Plans were put afoot, and the balmy June day of our departure arrived. London was easily attained courtesy of our trusty Virgin Pendolino, that gallant chaise which has conducted us on many a zestful journey's first leg, and a ten minute walk connected us with our Eurostar at the Magnificent Splendour that is St Pancras International station.
Usually bound for either Brussels or Paris on this remarkable pretender amphibian, today would see a mere ninety minute hop, skip and jump to Lille, where we would avail ourselves of the connecting TGV service, which would whisk us almost tout de suite (well, a modest five and a half hours) directly to the Pont d'Avignon itself, save for a ten minute shuttle ride from the new, slightly out of town TGV station, making Avignon city breaks extremely simple. In fact, c'est du gateau! It's worth noting too that, during the peak summer months, Eurostar operate a direct service to Avignon, which then travels the extra half hour on to Marseille.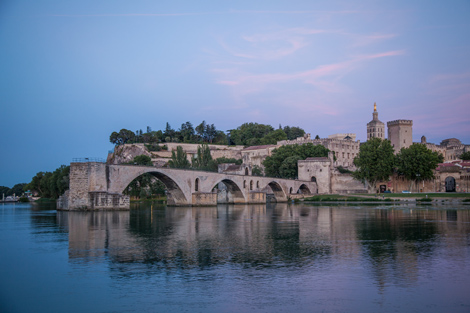 It's that famous bridge again; the Pont d'Avignon by night
A late arrival meant repairing straightway to our hotel, the very conveniently situated ibis Avignon Centre Gare, where we were met with the warmest of welcomes and partook of a mug of ale each in the finely appointed reception bar. We both settled back into plumped up cushions and mused in excited contemplation over the blissful days that would follow.
After a very comfortable night, we were ready to explore. The Provençal sunshine shone brightly on our little old righteous selves and propelled the temperature up to a cool 37 degrees in the shade; this would do very nicely, thank you very much!
The Middle Age capital of Christendom, Avignon prides itself on an exceptionally preserved cultural legacy which, largely adopted by UNESCO's list of World Heritage sites, comprises not only the aforementioned bridge, but also the hugely impressive Palais des Papes with its large baroque façaded square, the Museum of the Petit Palais, Avignon Cathedral, Notre Dame des Doms and magnificent stretch ramparts that gambol splendidly away from the Garden of Les Doms to the foot of the bridge on the Rhone bank.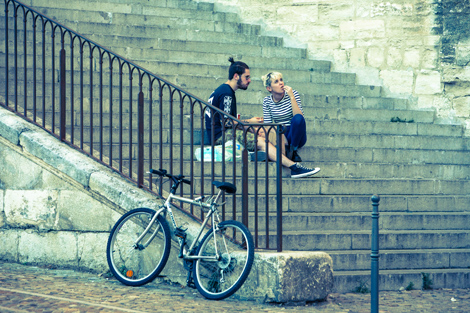 Avignon city breaks are a great way to chill and soak up the atmosphere in the South of France
The most impressive sights can be examined at a glance on the exquisite Petit Train, and then explored more leisurely on foot, as indeed can the many weinds and byways strewn with haphazard shops, awash with curios. Bars and restaurants are plentiful, and al fresco dining is undoubtedly de rigeur.
Our mornings would begin slowly and, skipping what looked like an excellent breakfast at the hotel in favour of an open air brunch, we would meander down to the seam of excellent eateries lining the Rue de la République and Place de l'horloge, and – taking up temporary residence at one or other of them – plan the rest of the day. Oftentimes, we would take thé au citron at Le Forum, a well-founded, reliable hostelry, before availing ourselves of some provender from their sassy little menu – usually l'escargot or moules frites.
After a deliciously unhurried repast, afternoons would be spent mooching and exploring, with perhaps a jug or two of ice cold beer before sojourning across the Rhone to take the refreshing waters of the open air Olympic pool on Île de la Barthelasse which, although charging a rather steep €10 for admission, was most certainly a highlight.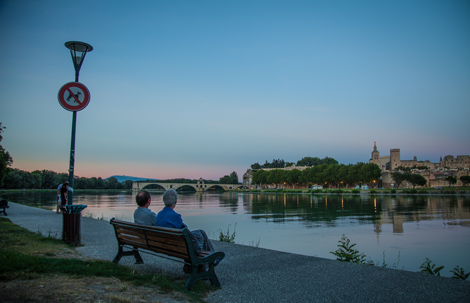 A summer evening view of Avignon from across the Rhone
Towel-less, we would dry au naturale in the baking late afternoon heat, and call back at the Palais des Papes square for further refreshment, which could be taken easily in the lazy bustle of a holiday city at its best. As the shadows lengthened over the Hotel of Currencies, it was our cue to return once again to our own hotel, and prepare for the evening festivities. These would usually entail venturing within the walls once more, where outdoor dining would again be the order of the day, occasionally at the rather excellent O'Neills Irish Pub, where one's viands and victuals can be savoured whilst perusing the comings and goings of the Rue de la République.
With the return à Londres being pretty much a straightforward reverse of the outbound trip, it puts the magic and majesty of Avignon within easy grasp of the discerning holidaymaker who is desirous of combining his or her city breaks with a more traditional summer holiday.
If you fancy a change from your usual Spanish or Greek resort, then Southern France – so easily reached sur le train – could be just the ticket.
Pictures: Nige Burton
Popularity: 3% [?]
Both comments and pings are currently closed.

Got something to say..? Leave your thoughts...