How Eurostar has provided the perfect gateway for travel without wings
Posted

Tuesday 3rd March 2015
by

Nige Burton

Nige Burton explains how his wondrous continental rail journeys always start with a trusty Eurostar trip from London's St Pancras
I looked up at the destinations board abstractedly as I shouldered my way across the concourse of Paris's Gare du Nord, a smirk of delight spreading across my countenance. Zurich, Cologne, Charleroi, Amsterdam… these were places that I used to think of – and I now really don't know why – as only being feasibly reachable by flying.
In fact, flying had always been my transport of choice, even for a short hop from Manchester to London. I thought it was quicker. I'd never really had a fear of flying, but I also can't say that I particularly enjoyed it either; it was always a means to an end, a necessary part of travel.
And then came the three dodgy flights, all in a row like so many spiteful buses, to shake my confidence in aeronautics for life. Having never really given it much heed aside from the boredom, I was suddenly and indubitably aware that hurtling through the sky at over 500 miles an hour six miles up, with nothing but a rinkydink aluminium tube, a seatbelt and a laminated safety card for protection, was no longer so de rigueur after all. Sure – the statistics tell us the chances of anything happening are slimmer than slim, and all the ancient Sages advise that 'if it's your time to go, it's your time to go', but – what if it's the pilot's time to go?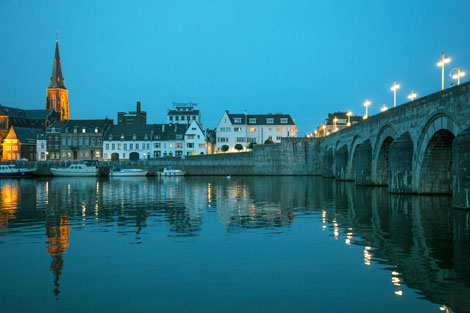 Travel to cities such as Maastricht is surprisingly easy by train, and affords a closer exploration of some of the hidden gems of Europe
Anyway, notwithstanding any of this, and from a pure enjoyment-of-the-journey point of view, I had taken the decision to explore alternatives, and thus found myself all aglow with exultation on the Parisienne terminus. In theory, I could get anywhere by train! Well, nearly anywhere. And it was a revelation.
I have since come to call this little adventure my Pan European Odyssey: in short, my exploration of no less than eight European cities – each in a different country – over a two-and-a-half-week period. I had plenty of time in each one, beginning my adventure in London, from where I gained Paris, Zurich, Vienna, Budapest, Bucharest, Bratislava and finally Munich before returning to the United Kingdom.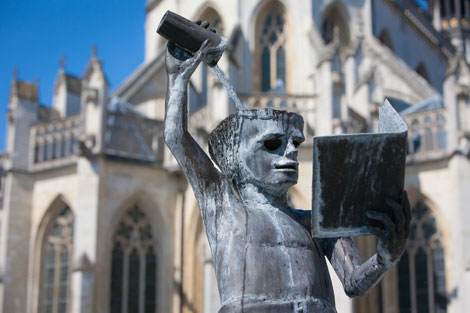 Chill in laid back Leuven, Belgium's oldest university seat
All this was undertaken on trains various, each leg revelling in the ever-changing landscape incumbent upon it to be presented with mawkish pride; arriving in the stately Austrian capital with its fine architecture and grandeur; watching the Hungarian countryside melt into the deep blue of the night before settling down in my compact but comfortable sleeper car; slowly sipping a glass of wine whilst dining on the rolling stage of a sunset behind the Transylvanian Alps – all these exquisite moments sparkle in the memory of this behemoth expedition. There was something very special indeed about looking out of window and seeing more than a carpet of clouds whilst holding my breath at every bump or thump, despite the fact that most all of these sounds are perfectly 'normal'. On a train, I don't have to look at the flight attendant's face to see how 'normal' the sound was to them; on my dodgy flights, I realised that fear is pretty much fear, and can stare out of the most well-trained and professional visage just as much as the meagre passenger one.
It was at this point I made my decision that, wherever possible, I was going to travel without wings. So many exciting destinations were available to me without my once having to set foot inside an airport terminal – I would just have to plan things a little more carefully.
Time is undoubtedly the biggest single factor you need on your side if you're going to adopt a similar principle, and it certainly helps that my working life allows me the freedom to operate from most anywhere on the planet. But I still have cats to feed at home, and whilst friends and family will step into the breach and dish out a regular daily bowl of kibbles, for Irma and Gomez that's no substitute for the first hand company of their Dad. And so I set about experimenting with places and time-scales that would not present a too chronologically challenging undertaking to the vast majority of holidayers who are subject to the vagaries of a more restricted working practice – the 96% of the working population of Great Britain.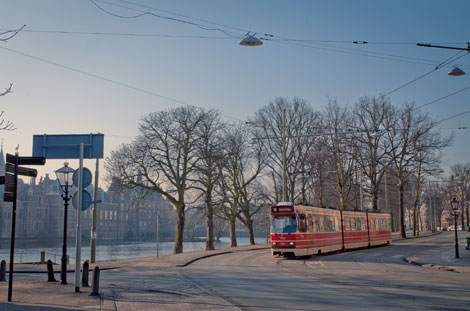 The Hague is one of Holland's best kept secrets and makes for a superb romantic retreat by train
I have since, apart from my eight country extravaganza, taken many wonderful jaunts by train, including a beach holiday in Menorca by rail and ferry. The total trip was completed in exactly two weeks, although just one week was spent on the island. The trick here is to make the journey as much a part of the experience as the destination itself; there was a great satisfaction in hurtling through a vista that slowly, but very perceptibly, changed from the bustling skyline of metropolitan Paris through to the lush, verdant pastures of southern France, and on into the drier, equally impressive Spanish plains. And sailing into Mao harbour at a little before eight on a sunny September Saturday morning is nothing short of sublime, and without a single butterfly in my stomach save for those more welcome ones anticipating the excitement of the week to come. I have also explored those cities which most of us hear of but would never dream of visiting, and I'd surely have been a lesser person without the experiences; the romance of The Hague, the ancient charm of Leuven or the majestic beauty of Maastricht to name but a handful. Oh, and for a true summer break without even the need for a ferry, I became deliciously acquainted with the lazy, hazy, long-shadowed, sun-baked walled city of Avignon; now there is a little corner of perfection.
But, residing on one of our great British islands still seems to present a barrier to some fellow journeymen, psychologically informing thoughts which in turn entertain the notion that one must fly to escape to climes more exotic and meaningful. To these uninitiated creatures, I utter one word of encouragement and hope: Eurostar. That magical conveyance has whisked me tout de suit to either Lille, Paris or Brussels on so many occasions now that I have genuinely lost count. And it is from these three wonderful cities – all worthy of thorough and regular exploration in themselves – that so much more adventure beckons.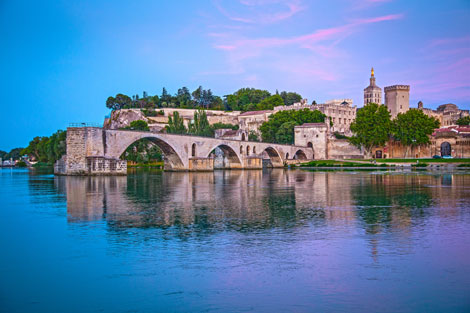 Avignon proves that a sun-baked summer holiday doesn't need a coastline and can still be easily reached from the UK by train
Services are quick and easily undertaken, with journey times shorter than those of many domestic rail trips, Lille being a mere hour and twenty minutes from London's state-of-the-art international hub of St Pancras, and Paris a very little over two hours away. With eleven daily services from Brussels Midi to St Pancras, and journey times often as swift as a minute over two hours for fares from €88 return, flying seems to make less and less sense. Onward travel is a divine piece of cake, with connections and timetables making planning pretty much as easy as any UK rail journey, allowing the intrepid sojourner a freedom only bound by the limits of his own imagination. But for me, one of the true great advantages of travelling by Eurostar in particular is the generous baggage allowance; each passenger can take on board two suitcases and a single item of hand luggage – after the limitations imposed by airlines, this is extremely liberating.
So, as I plot my next expedition with an eagerness that can be known only to those who have already joined the fold, those fortunate individuals who know that flying is not the only passport to foreign adventure, I oftentimes prepare to simply stick the proverbial pin in the map. I think of the true promise of adventure, and I feel the words building inside me. I can't stop them, or tell you why I say them, but as I trace imaginary lines across the page, entertaining thoughts of wonder and bliss, these words come to me in a whisper; I say them as prayer, as thanks, as praise; I say… Eurostar… Eurostar…
Tickets are available from eurostar.com or 08432 186 186.
Main image courtesy of Eurostar
Article images by Nige Burton
Popularity: 1% [?]
Both comments and pings are currently closed.

Got something to say..? Leave your thoughts...