Tiny Atlas Guides to the world's most unforgettable experiences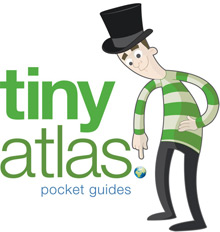 Tiny Atlas is all about those fantastic travel experiences you need to do at least once in your life. We've picked some pretty weird and wonderful stuff along with some sensational, breathtaking highlights that make you realise you're a traveller rather than a tourist, giving you the opportunity to really make the most of some of the world's more unusual destinations.
You'll find a brief intro and description of each suggestion and, if it takes your fancy, you can click through for the full skinny and detailed instructions on how to make it happen.
Please note, all Tiny Atlas adventures assume you're travelling from the UK – it doesn't mean they're no use if you're elsewhere in the world, but if the article includes any 'getting there' information, it may, of course, not apply. Tiny Atlas guides sometimes include great tips for neighbouring attractions, accommodation, etc, together with useful contacts, phone numbers and websites.
1: Take the longest trolley-bus ride in the world
Stretching over Ukraine's stunning Crimean mountains, this charming trip from Yalta to Simferopol is definitely one to tick off your list…
Find out more…
2: Rug up for dog-sledding on an Icelandic glacier
This sublime treat brings you closer to nature in more ways than one, but don't forget to pat your dogs and tickle their bellies afterwards by way of a thank you…
3: Catch the midnight train to Moscow from St Petersburg
It might sound like it's swathed in intrigue and espionage at the height of the cold war, but this adventurous little jaunt allows you to make the most of two fine Russian cities…
Find out more…
4: Go horse riding on the Outer Mongolian steppe
Experience the freedom and exhilaration of this wonderful mode of transport against a stunning backdrop – and if you're lucky, you might get a horse called Keeley, like me…
Find out more…
5: Visit Pripyat's abandoned fun fair in the Chernobyl exclusion zone
This one's not for the faint hearted, but is certainly one of the most extreme tourist trips you can undertake. It's still very radioactive though, so you do it at your own risk…
Find out more…
6: Tour Prague in a 1959 pink Škoda Felicia convertible
If you're going to take a city tour of Prague, the only way to do it is in one of the Czech republic's native little cars – moreover a hot pink Škoda Felicia… fabulous!
Find out more…
7: Dine against the Menorquin sunset at Sa Pedrera d'es Pujol
Ok, so it might be down to personal taste, but we're going to venture to say that Sa Pedrera d'es Pujol at Caserío Torret, in stunning south west Menorca, could well be the best restaurant in the world…
Find out more…
8: Stay in a 'haunted' signal box on the remote north Norfolk coast
We can't guarantee you'll see any ghosts, but this delightfully quirky little 1901 residence in Happisburgh, built for a railway that never came, has to be one of the coolest places you could ever stay at, and it's brimming with atmosphere and charm…
Find out more…
9: Enjoy 'Eggs Vincent' for breakfast in the beautiful Ypres Salient
The rebuilt, reinvented, sleepy corner of Belgium is a perfect base for a World War 1 battlefield tour… it's also a beautiful and friendly location for a break of any kind, especially if you stay at Vincent Vandelannoote's wonderful Ambrosia Hotel and indulge in his breakfast speciality!
Find out more…
10: Touch a deep blue iceberg in Greenland
What can we say..? This is an extra special one that really takes your breath away, but you have to be in a boat small enough to get up close and personal, so choose your tour operator carefully…
Find out more…
11: Drive an authentic Trabant around east Berlin
Ok, so it's another car one, but these old Eastern European jalopies are immense fun. This time you get to drive your own little Trabi along the path of the Berlin wall! Don't worry, you'll be fine once you've mastered the revolver gear-change…
Find out more…
12: Cross a tidal causeway to Osea, England's secret island hideaway
It's magical, it's mysterious and it's an incredibly beautiful SSSI. Get back to nature and visit Osea Island and we promise you something very magical will happen deep within your soul…
Find out more…
13: Fly yourself 4000 feet above the stunning West Lancs coastline
One of the ultimate experiences for intrepid adventurers, a flying lesson in a real live Cessna-172 may even cure your fear of flying! And if it doesn't, the spectacular views are almost worth the angst…
Find out more…
14: Take a Eurostar train to… well, pretty much anywhere, really
It just hast to be the coolest way to get to northern Europe and beyond, and you don't even have to flap your wings. If you haven't had a Eurostar adventure yet, it's high time you climbed aboard…
Find out more…
15: Get back to basics in an authentic bow top Gypsy caravan
It's neither camping nor glamping, but this rustic adventure in rural Somerset will appeal to anyone who really wants to get back to nature, and with a jug of scrumpy, some local sausages and half a dozen eggs thrown in, what's not to love?
Find out more… 
16: Dine in style as the sun sets over the stunning Morecambe Bay
Fleetwood's North Euston Hotel, in a quiet coastal corner of the north west of England, offers a truly magical sunset dining experience in its Bay Restaurant – even on a cloudy day…
Find out more… 
17: Traverse the whole of the Belgian coastline by tram
Stretching from the French border to the Dutch frontier, this is the longest tramway in the world, and the only remaining interurban one. Hop on board and take a traditional summer break with a twist of Kusttram…
Find out more…
Popularity: 1% [?]
Related Articles
Join our email list for the latest updates...
Enter your email to receive our regular newsletter with the latest news, articles, and updates, never miss a thing...
Latest Sponsored Video
Popular Articles
Recent Comments