Scotland's Western Highlands, or Middle Earth?
Posted

Wednesday 19th August 2009
by

Nige Burton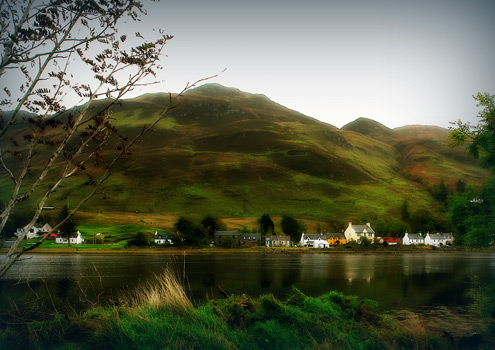 Dornie is the perfect base for the Isle of Skye
I'm not sure I could get through a year without my annual pilgrimage to the western Highlands of Scotland. What started out as a trip to find my grandfather's final resting place on the Isle of Skye some twelve years ago – a journey made regularly with my beloved Uncle Heccy – has become a yearly pleasure I look forward to with the anticipation of a child on Christmas Eve.
The 360-mile journey to Dornie, which I always make my base, is nothing short of arduous and takes me the best part of a day from Fleetwood in Lancashire. This matters not; I'm always so excited, and the lunch stop at our special cafe on the banks of Loch Lomond serves as the gateway to a breath-takingly beautiful journey from that moment on.
Despite the extremely enjoyable drive up, I'm always glad when I finally pull into the car park at the wonderful Dornie Hotel; that last sixty or so miles can be heavy going. The traditional Highland welcome extended by hotel proprietors Paul and Suzanne Meikle is second to none, with rooms comfortable and cosy and an outstanding restaurant (serving the best haggis I've ever tasted). All this combines to make me realise every time just why I keep on coming back to this place. I wouldn't entertain staying anywhere else – especially at the price. Whenever I get my bill, I'm always quietly running through it in my head as it never seems to be enough – not that I'm complaining in any way, shape or form. I always feel so 'looked-after'; without doubt, this establishment is a vital part of my stay each time I visit.
The village of Dornie itself is quite the most wonderful place on earth, its pretty coloured houses overlooking picturesque Loch Duich (in fact, Dornie is situated at the meeting point of Loch Duich, Loch Alsh and Loch Long) and the majestic highland peaks surrounding it on all sides.
I discovered Dornie quite by accident; my uncle – Rev. Hector Lee SSM – had an arrangement with the Anglican Church whereby he could have cheap accommodation in a variety of locations throughout the UK in exchange for being the resident Sunday preacher at the local church. This was the happy circumstance which led us first to Dornie, and the quaint little caravan which overlooked the village and its neighbour Bundaloch from the far side of the Loch Duich. This in turn led to the discovery of the tiny yet delightful church at Nostie, and all the wonderful local people who formed its congregation, especially the wonderful and inspirational Penny Roome, God rest her soul.
Dornie, it turned out, was an ideal location from which to visit Skye itself, being just nine miles south of the famous Skye bridge at Kyle of Lochalsh. It's also perfect for exploring nearby Plockton, with its famous tropical palm trees (thanks to the prevailing Gulf Stream), Duirinish (or Diurinish, depending on which sign you take to be accurate), the beautiful and often photographed Eilean Donan Castle and the breathtaking Glenelg Bay, the short journey to which is a sublime and wonderful experience in itself.
Popularity: 2% [?]
You can leave a response, or trackback from your own site.

Got something to say..? Leave your thoughts...