Surely the best room in the English Lake District…
Posted

Monday 2nd May 2011
by

Nige Burton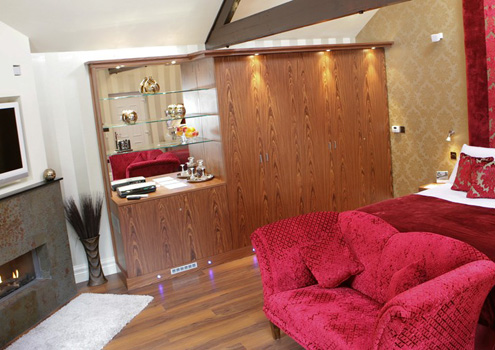 The Sanctuary, a hideaway at the stunning Cranleigh Hotel at the heart of Bowness-on-Windermere, ranks easily with some of the world's finest
Imagine a place where nothing else exists apart from the means by which you can totally indulge your every whim. A hideaway where you can be as far as you like from the madding crowd but within a hair's breadth of a cosy bistro or intimate bar, and all within a stunningly beautiful setting at the heart of the English Lakes.
You'd be forgiven for thinking it either sounds too good to be true, or would come at such a premium price as to make it prohibitive. Happily, neither is true. Believe me when I say that I've stayed at some rather fabulous rooms and suites in pretty exclusive locations across the globe, having been lucky enough to review them for a selection of high-end publications both online and in print. Now these do come with a price tag to match (on occasions that's been several thousands of pounds per night) and there's no denying they've been very impressive, but I've always come away with the notion that it's just somewhere to put my head down at the end of the day, and the money I'd have had to pay would feel wasted, no matter how well-heeled one might be. But I've had my head turned and my heart changed, and I kind of feel like I'm revealing a secret that I don't really want everyone to know about, but then that would just be selfish and defeat the whole object of World Travel Blog.
Ok, so I'm going to let this one out of the bag. I had the good fortune recently to stumble across the Cranleigh, a stunning little jewel of a hotel in the centre of Bowness. It's always worth noting that, when booking anywhere for the South Lakes, you might want to consider Bowness over Windermere if it's the lake you're after; whilst Windermere is a perfectly pleasant, picturesque Lakeland town, it has no actual lake. Lake Windermere itself is actually situated in Bowness, and this is a good five to ten minute drive (so a considerable walk) further on. The Cranleigh is in the very centre of Bowness, just four or five minutes from the lake.
Upon arrival, I'd have been perfectly delighted to have been staying in the main hotel itself, but was fortunate enough to have booked the Sanctuary, a self-contained apartment tucked quietly away off the main drag. Private and unassuming from the outside, absolutely nothing on earth could have prepared me for what was on the other side of that little front door. For the first time in many a long year of staying in hotels, this stunning pied de terre literally took my breath away, from its luxuriously opulent decor right down to its incredible attention to detail. Chilled Champagne and chocolates welcomed us as soon as we walked through the door and, still reeling from the surprise of this, my eyes started to drink in the other details making this surely the best room in the Lake District. A huge bed, fit for royalty, dominated the main room without overcrowding it, and yes – it was as comfortable as it looked, affording me the best night's sleep I'd had in ages. Add to this a 46" LCD television which is connected to a Bose surround sound Lifestyle system with iPod docking station and DVD player, well-stocked bar (with complimentary sherry) and all the comfort and trappings you could imagine in your ideal environment – there's even free internet access – and you still couldn't begin to have a picture of what the Sanctuary is all about.
And then there's the bathroom, which I'm perfectly sure I could have lived in quite happily, with its glass Ben de Lisi bath (the first ever to be fitted in a hotel room), walk-in shower and relaxing LED light show to boot. Oh, and of course there's a separate 18" widescreen TV in the bathroom, situated perfectly to enable relaxed viewing whilst bathing. Outrageous.
The icing on the cake has got to be the private hot tub, situated externally to the property in its own little 'courtyard' – the perfect environment in which to enjoy your Champagne (in, of course, the plastic 'glasses' provided. Mustn't forget the Health and Safety Exec).
All in all, it's hard to imagine accommodation which could be more luxurious, and in such a perfect location. If you want a real treat – that all too rare occasion when pampering is the order of the day, and you feel like living someone else's life a tad more glamorous than your own – then this should be at the top of your list. But the real surprise is the price; the Sanctuary comes in at between £250 and £400 including bed and breakfast, based on two sharing, and trust me when I say this represents breathtaking value for money. Once you've lapped up the Black Magic Marble floor tiles (and underfloor heating), the Samara Platinum wall tiles, the wall papers and fabrics from the Royal Collection in the Queen's archives and a fantastic night's rest in the super kingsize bed with goose down bedding, let me suggest you take the breakfast like a king in your room. Ample, carefully selected local produce, beautifully cooked and lovingly presented, provides not just your average full English, but a gourmet extravaganza which will round off this whole experience with lasting finesse. This is the stuff dreams are made of, and every now and then, it's nice to acknowledge just how 'worth it' you are.
For more details, visit: www.thecranleigh.com
The Cranleigh
Kendal Road
Bowness-on-Windermere
Cumbria
United Kingdom
LA23 3EW
+44 (0)15394 43293
Email: enquiries@thecranleigh.com
all images © The Cranleigh Hotel
Popularity: 2% [?]
You can leave a response, or trackback from your own site.

Got something to say..? Leave your thoughts...